So the word of the day and maybe all week, is that I'm behind on posts and trying to catch up. So you may have seen this already on the AntDaGamer*ADG Entertainment YouTube channel but here is the Neptunia X Senran Kagura: Ninja Wars "Extreme" trailer alongside some other great details.
Also, expect tons of content and news on this game today and beyond including exclusive content (plus interview just out today). Some may know that are subscribed on YouTube that I've already played and reviewed the game. Chat with you soon.
PRESS RELEASE
LOS ANGELES, CA., October 21, 2021 – The Neptunia™ and SENRAN KAGURA crossover you've been waiting for launches in less than a week! We are happy to share that the official website for the upcoming Neptunia and SENRAN KAGURA crossover action RPG game, Neptunia x SENRAN KAGURA: Ninja Wars, has been updated with the following:
Official Website
LESS THAN 10% STOCK REMAINS OF THE 
NEPTUNIA X SENRAN KAGURA: NINJA WARS LIMITED EDITION

Preorder the Limited Edition at the IFI Online Stores before it sells out! The Limited Edition includes:​PS4 Game (with reversible cover)​Collector's Box​The Art of Ninjutsu Hardcover Art Book​Ukiyo-e Wall Scroll​Steel Game Case​Official Soundtrack​Exclusive Trading CardNorth American preorders qualify for FREE US shipping.

The Limited Edition is available for Canadian customers at 
Video Games Plus for $139.99 CAD and includes FREE shipping.

*Offer through VGP is for Canadian residents only. International orders must be made at the IFI Online Stores.Preorder the Limited Edition at the IFI NA Online Store and Video Games Plus below!
IFI's Online Store (NA)Video Games Plus
IFI's European Online Store

Screenshot Batch #3: Peaches & Cream Meditation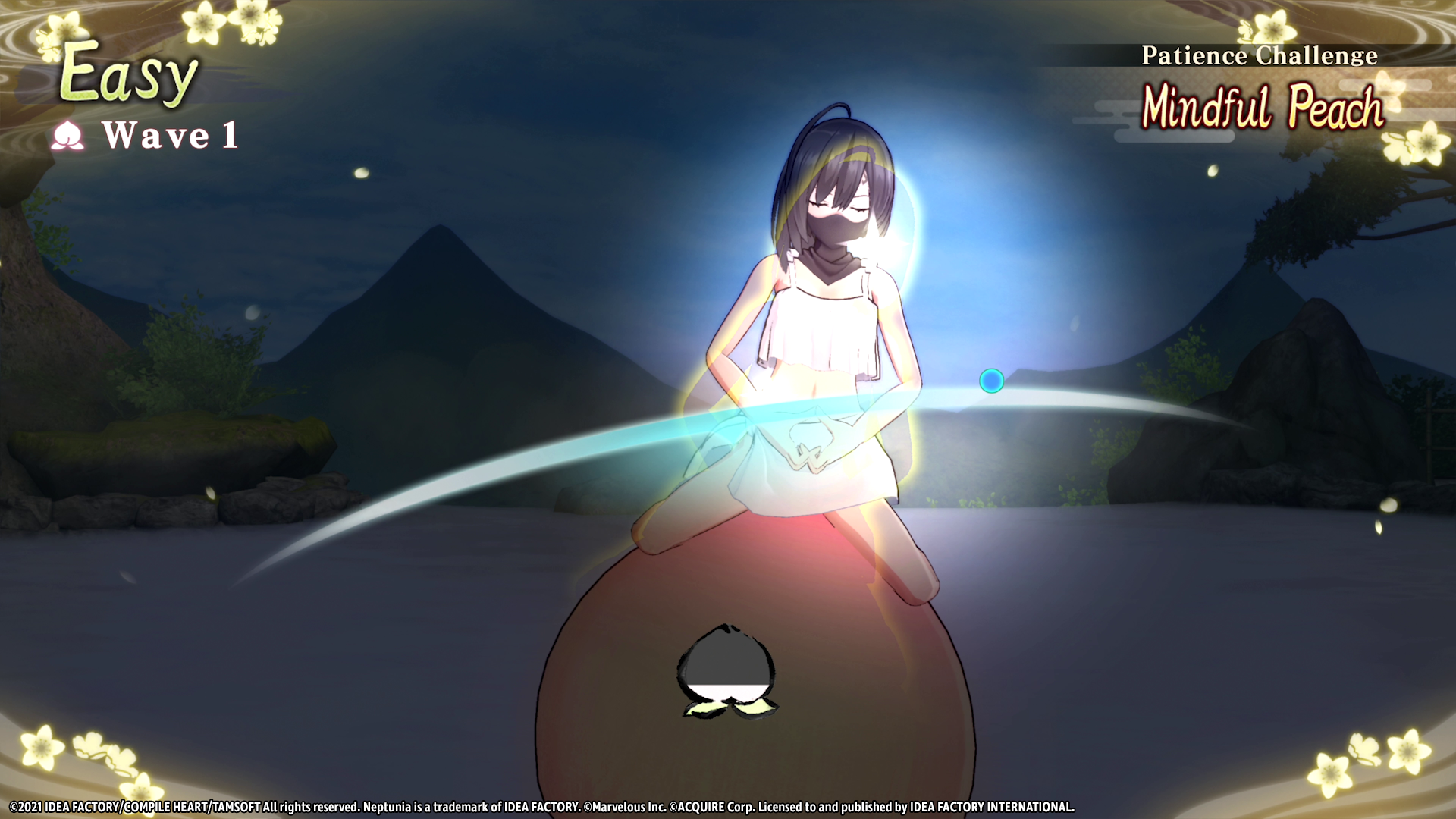 System:Peaches & Cream Meditation


"Peaches & Cream Meditation" is ninja training in which you work out your core by balancing on a giant, swaying, jiggling peach! Continue to keep balance by tilting your controller, so your character doesn't fall off the peach.

A "Patience Challenge" will occur during meditation for extra fun!


Mindful Peach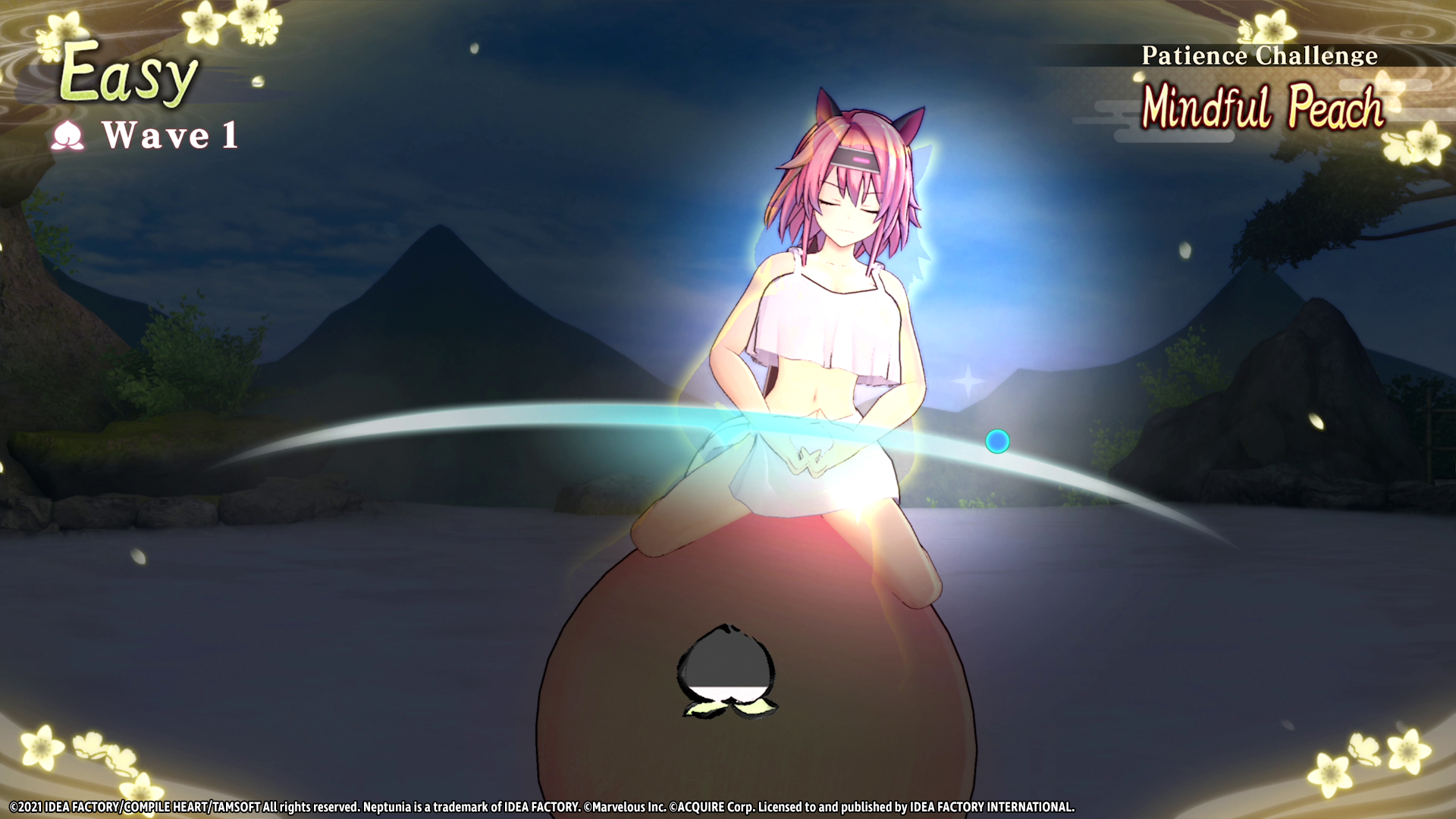 A Patience Challenge that tests if you can tilt the controller and have the character fit into the frame of light, keeping balance there.Clarity Peach




A Patience Challenge that tests if you can keep your balance while the balance guide is no longer displayed for a brief period of time.


By succeeding at Peaches & Cream Meditation, you'll be given a temporary boost to abilities, giving you an advantage in battle!

Furthermore, there are 3 difficulty levels to the mini-game, and the higher the difficulty cleared, the greater the effect received. However, the higher the difficulty, the bigger the peach will become, making it harder to keep your balance!

Check out the Peaches & Cream Meditation Mini-Game on the official website below!
Peaches & Cream Meditation Mini-Game
Character Profiles:Virtue Nation/Mysterious Ninja

Yuuki
Affiliation: Virtue Nation
School: Virtua Style

A ninja serving under Princess Aaru.

She's always positive and calm, but she loses her cool when it comes the Princess.
She grew up as a companion to the Princess since childhood, so they're as close as sisters.

Goh the Crow
Affiliation: Unknown
School: Unknown

A mysterious black-clothed ninja who lost her memories. She only remembers her name.

Possibly to find clues to her identity, she attacks any strong ninja she sees without hesitation. Her catchphrase is

"Be punished."


Steeme Legion



Yoh Gamer
Affiliation: Steeme Legion
School: Headshot Style

NINJA master of the Steeme Legion.

She boasts being the strongest user of the Headshot Style, and is the one who began the Super Ninja War with each nation of Gamninjustri.



Tetsuko
Affiliation: Steeme Legion
School: Headshot Style

Commander of the Steeme Legion.

She leads the Steeme Legion along with Yoh, but unlike her she dislikes conflict.View all of the Virtue Nation/Mysterious Ninja & Steeme Legion characters on the official website below!
Characters