PRESS RELEASE
2K and Marvel Entertainment debuted the fifth and final Prequel Short for Marvel's Midnight Suns today via the Marvel Entertainment YouTube channel. Titled "Nico TV," this Prequel Short features Nico Minoru, a young witch and wielder of the Staff of One who tries to befriend the rest of her fellow Super Heroes.
For "Nico TV," 2K and Marvel Entertainment worked with German artist Eileen Steinbach, applying a signature minimalist style for this unique poster.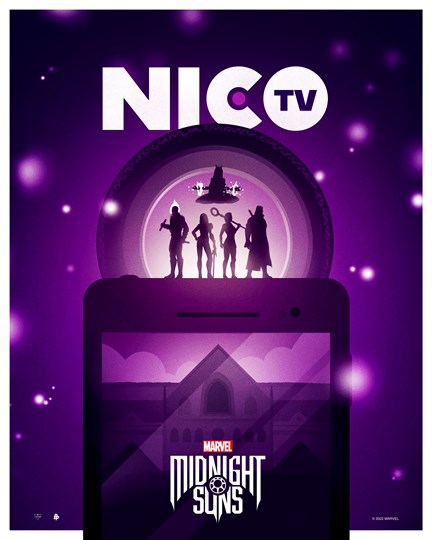 With the release of "Nico TV," all five Marvel's Midnight Suns are now available to watch on Marvel Entertainment's YouTube channel.
Marvel's Midnight Suns Prequel Shorts is a set of five short videos that provide backstory on how Lilith became the Mother of Demons, and how Super Heroes like Blade, Magik, Ghost Rider and Nico Minoru came together to form the young core of the Midnight Suns.
Marvel's Midnight Suns Prequel Shorts is being animated by the talented teams at Sun Creature Studio and DIGIC Pictures; each video is currently scheduled to be released weekly.
Marvel's Midnight Suns is available for pre-orders today and will release globally on December 2 on Windows PC, Xbox Series X|S and PlayStation 5*.
For more information on Marvel's Midnight Suns, visit www.midnightsuns.com, become a fan on Facebook, subscribe on YouTube, follow on Twitter and Instagram, and join the conversation using the hashtag #DarknessFalls.
*Launch timing for the Xbox One, PlayStation 4 and Nintendo Switch versions of the game will be shared at a later date.
# # #